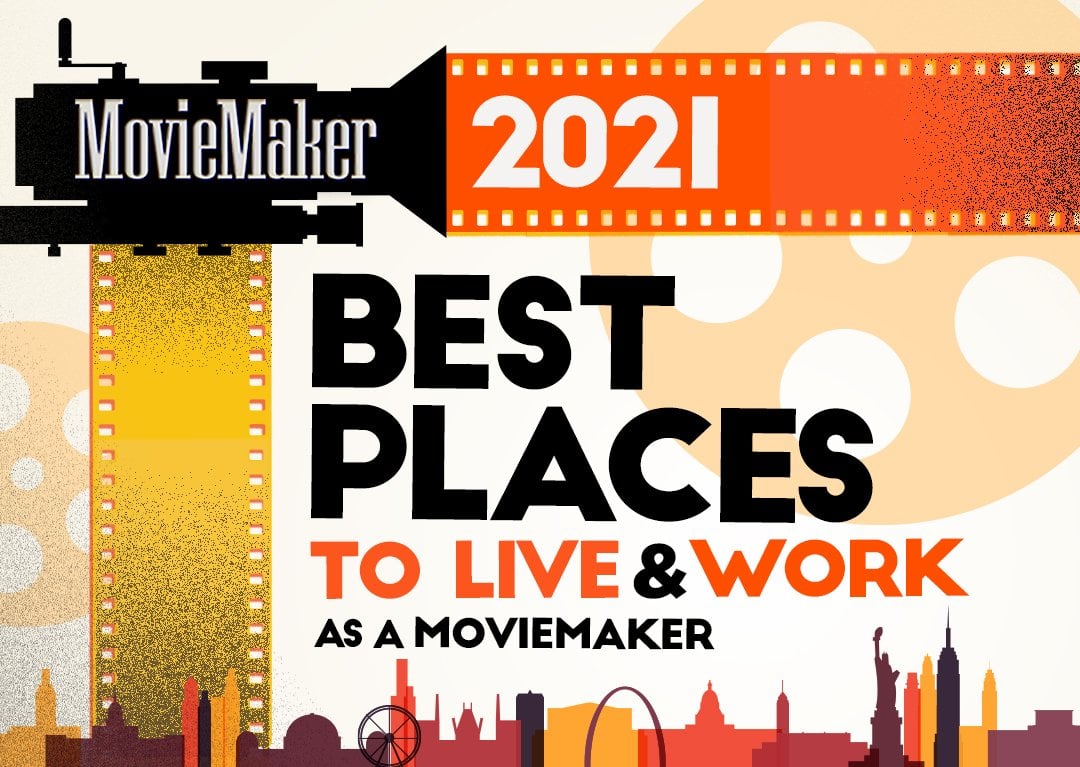 BIG CITIES (continued)
17. San Diego
San Diego has an intangible quality that has lured films of all genres, from the incomparable Citizen Kane to Traffic. In 2020, it again attracted a mix of projects: documentaries, episodes of shows like Mayans M.C. and Where Murder Lies, and advertising campaigns for American Airlines, Reebok and Uber. Like very few places, it can be entirely refined or completely relaxed. "San Diego is an extremely film-friendly destination and a hub for eclectic cultural filmmaking, appealing to filmmakers looking for versatile backdrops and creative opportunities within a boutique setting. You only need to point to our 35 diverse film festivals to see a true reflection of San Diego's diverse population and filmmaking background," says Brandy Shimabukuro, San Diego film liaison.
The city's many film organizations include the Pac Arts Movement, San Diego Filmmakers and San Diego Women's Film. Members of those groups can enjoy film together in the theaters and film societies across the region, including the Digital Gym Cinema, La Paloma Theatre and Theatre Box. And for a few frenzied days each summer, San Diego Comic-Con is the heart of film and TV fandom.
And 2021 is the year that we'll finally get to see Top Gun: Maverick, which shot in the area in 2019 and we're sure will take our breath away.
16. Memphis
"I moved here in the early '90s. I thought I might stick around for a year or so and keep going west and end up as a filmmaker on the West Coast somewhere," says moviemaker and Eventive co- founder Iddo Patt. "And I stayed, because I realized so much of my experience in the rest of America was about consuming culture. And this is a place that's all about creating and producing. And everyone here is a creator and the atmosphere is just full of creativity. So that's just what has kept me going here in this community. It's what makes it a wonderful place to be a filmmaker. Everywhere you turn, you're inspired by somebody's creative work."
We can't say it any better than that. But Memphis has even more to offer.
In response to COVID-19, the Memphis & Shelby County Film and Television Commission innovated by turning to its 501c3 arm to set up a GoFundMe for local crews. It also partnered with the city-county economic development agency, EDGE, to award grants of up to $10,000 to local film facilities. Memphis also required filmmakers to follow Alliance of Motion Picture and Television Producers' standards for safe shoots.
As a result, the commission says, business is booming. It vows that Memphis is a place where the good times and the cameras roll — safely.
Among recent projects is Waheed AlQawasmi's directorial debut, Jacir, which stars Lorraine Bracco and has the assistance of our own MovieMaker Production Services. Other recent projects include a new Netflix series, a BET pilot, and NBC's The Voice. Which reminds us: We haven't even mentioned that Memphis has one of the richest modern music legacies of any city on the planet. (Memphis' Craig Brewer, likes to start each shooting day with a little music from local icons like Al Green.)
Tennessee gives cash refunds rather than tax incentives, and Tennessee Film Commissioner Bob Raines gives qualified clients a minimum 25% cash refund back on the majority of in-state expenses. Finally, the Indie Memphis Film Festival— one of several magnificent festivals in the region — deserves a special mention for presenting a virtual/outdoor edition in 2020 that included a period drive-in theater and "lawn pod circles."
15. Oklahoma City
Bold, innovative, and very funny Oklahoma City moviemaker Mickey Reece has averaged at least two films a year for a good decade — without leaving home. "A lot of out-of-town folks come to shoot in Oklahoma to take advantage of our 35% tax rebate incentive, but just within the last year or two (thanks to filmmakers working outside of the traditional system) our state has become more recognized, nationally, for our talent and work ethic," he says. "We've created our own industry outside of Hollywood. Our actors are hungry, our crews are hungry and our locations are among the most unique in the country."
The proof includes films like Reece's festival darling Climate of the Hunter. And recent high-profile projects include Sean McNamara's Reagan, starring Dennis Quaid. The region is also blessed with vintage theaters, passionate film societies, and the state's largest film festival, deadCenter. Additionally, the new Prairie Surf Studios in the Cox Convention Center promises to house the largest clear-span sound stages in the Midwest.
And we all saw plenty of Oklahoma's diverse landscapes, authentic small towns, and miles and miles of unspoiled land in Netflix's Tiger King docuseries. Oklahoma and the tigers may be the only ones who came out looking good.
14. Cleveland
Cleveland is going to get a lot of attention this year thanks to two high-profile projects that shot locally: Cherry, starring Tom Holland and directed by hometown heroes Joe and Anthony Russo, and Judas and the Black Messiah, directed by Shaka King and starring Daniel Kaluuya and LaKeith Stanfield.
The added attention should draw an influx of new projects to a friendly, unfussy city that mixes small-town charm with big- city infrastructure and convenience. They'll be delighted to find a 30% tax credit and the Greater Cleveland Film Commission, a very service-oriented organization that provides everything from COVID-19 updates to a guide to industry jargon. It also offers classes to help locals break into the industry.
The region is home to many notable film festivals, and the Cleveland International Film Festival in particular is known as an incubator for crowd-pleasers. Speaking of crowd pleasers: By the time you read this, you should be able to see Liam Neeson's latest shoot-'em-up, The Marksman, which also recently shot in Cleveland.
13. Cincinnati
Major moviemakers keep coming back to Cincinnati: Since 2014, Emmett/ Furla Oasis Films has filmed six movies in town — including the new Bruce Willis action movie Hard Kill. Killer Films has filmed five movies in the Queen City, two by Todd Haynes.
In addition to a dramatic downtown skyline and friendly suburbs, Cincinnati has a cost of living below the national average and a median home price of under $200,000, according to Forbes. And the Ohio Motion Picture Tax Credit of 30% means production dollars go far.
Additionally, Cincinnati's film and performance culture is strong. There are many professional theaters, including the Ensemble Theatre Cincinnati, Cincinnati Shakespeare Company and Clear Stage Cincinnati. Beloved independent movie theaters include the Esquire Theatre, Mariemont Theatre, Kenwood Theatre, Parkland Theatre and Garfield Theatre.
And for young moviemakers, the K-12 curriculum at the School of Creative and Performing Arts is known as one of the most comprehensive in the country.
12. Dallas
Dallas is a place to make films and actually make a living in the industry, thanks to its super-collaborative community of filmmakers.
"It's common for burgeoning filmmakers to work on each other's films, which has created a true sense of community. Additionally, many filmmakers will work as crew and even talent on television projects of all types and sizes, as well as commercials, corporate films, music videos, etc., in between their own projects in order to gain valuable experience and make a living," says Janis Burklund, director of the Dallas Film Commission.
The community extends to the many film festivals where moviemakers network and appreciate each other's work. The Dallas International Film Festival, Oak Cliff Film Festival, Dallas VideoFest, EarthxFilm and Asian Film Festival of Dallas are among the best in the area.
Some of the major films that shot in Dallas recently include Kyle Rankin's Run Hide Fight, starring Thomas Jane, and Justin P. Lange's Guy Pearce exorcism film The Seventh Day.
The cost of living in the Big D is lower than the national average, according to Salary. com. International and domestic travel are easy thanks to a major airport in Dallas-Fort Worth, and the region has an admirable light rail system. Your off-set options include six professional sports teams, 20 entertainment districts and dozens of movie theaters, including Texas Theatre and Studio Movie Grill.
11. Toronto
The biggest city in Canada (and fourth largest in North America) is known for the Toronto International Film Festival, the largest and one of the most prestigious fests in the world. But if there's one thing Toronto loves more than showing movies, it's making movies.
They include the action- comedy The Man from Toronto — starring Kevin Hart, Woody Harrelson, Kaley Cuoco and newcomer Pierson Fodé — which shot in the Canadian metropolis this past fall. Jason Momoa was in Toronto twice in 2020, first for his Apple TV+ series See and later for Netflix's Slumberland. Toronto also hosts the Amazon series The Boys and Hulu's The Handmaid's Tale. And Guillermo del Toro's Nightmare Alley ramped up production in the fall after the pandemic caused a delay.
Whether due to its less-dense population, can-do government, or famous courtesy, Canada has been less hard-hit by COVID-19 than the United States, allowing production to resume with fewer interruptions.
Toronto is ready to shoot: The home of David Cronenberg has ample infrastructure, including stages, seasoned crews, rental houses, and post facilities. It's an immensely diverse city, and great for foodies too — don't skip the poutine.
10. Calgary, Alberta
Calgary was rated the fifth-most liveable city in the world, and the most liveable in North America in the latest list by the Economist Intelligence Unit. Its future is bright: Calgary is a young city, with an average age of 37 years, and merges sleek modernism with magnificent nature nearby, including the Rocky Mountains, prairies and badlands.
The former home of FX's Fargo — and current home of Jason Reitman's new Ghostbusters film—enjoyed $200 million in industry spending in 2020. Other notable projects included the Kevin Costner-Diane Lane drama Let Him Go from Thomas Bezucha. Moviemakers are drawn to its sound stages galore, great crews and production services that are ready when you are. The Calgary Film Centre boasts three sound stages, covering more than 50,000 square feet, with acoustically sealed, tilt-up construction and dedicated camlocks.
And you cannot mess with the home of the Calgary Stampede — a massive, annual celebration of Western culture and spirit — when it comes to authenticity. The CL Western Town & Backlot is a movie studio just 40 minutes from downtown Calgary, in the foothills leading into the Rockies, that features buildings from the 1850s to 1930s, most with finished interiors.
Continue for more Best Places to Live and Work as a Moviemaker, 2021