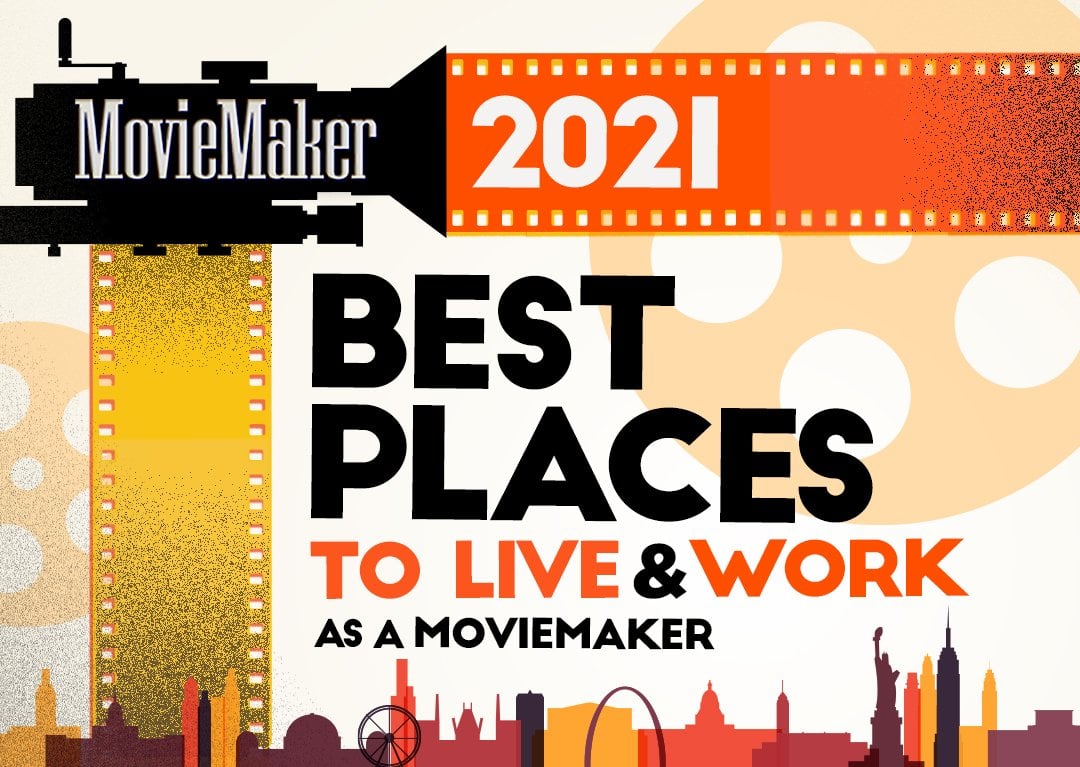 SMALL CITIES & TOWNS
10. Ashland, Oregon
"I feel really lucky that I, in many ways, was able to be reborn here. And in many ways, it is a different country from the East Coast. I mean, my friends would just be amazed. I hike a lot now," says Richard Herskowitz, a former New Yorker who is now the artistic director of the Ashland Independent Film Festival.
If you're looking for a lot to love in a small town of just over 21,000, you won't do much better than Ashland. The community 20 miles from the California state line has a long list of praiseworthy attributes — including hiking trails, the Oregon Shakespeare Festival and a passionate film community— but you can add tenacity to that list. In 2020, Ashland battled both the pandemic and wildfires, never abandoning its commitment to community and ingenuity.
One innovation was the release this year of the independent comedy Phoenix, Oregon over the "Theatrical at Home" digital platform created by Ashland-based producer Anne Lundgren. It splits revenues between moviemakers and indie theaters, and was later used by several other releases. The closeness of the film community was also apparent this year when the local chapter of the Oregon Media Production Association coordinated a cable and equipment swap to help get filmmakers get back to work, and Joma Films held a fundraiser for fire victims.
Given its small size, Ashland typically punches far above its weight with local film expenditures of up to $8 million annually, eight regional production facilities and 14 equipment rental houses.
9. Wilmington, North Carolina
This small town nestled along the Atlantic Ocean is brimming with film history: It's the filming location of David Lynch's Blue Velvet. Dino De Laurentiis built his own studio here in the 1980s. And he was joined in town by camera genius Joe Dunton, who has worked with everyone from Steven Spielberg to George Lucas to Stanley Kubrick, and has proven willing, over the years, to share his insights from his local business, JDC Camera Services.
The deliciously offbeat, smashingly innovative, charmingly anti-competitive Cucalorus Film Festival is one keeper of the Wilmington legends, which expand each year. "Even with COVID, 2020 surpassed 2016, 2017, and 2018," says Johnny Griffin, director of the Wilmington Regional Film Commission. The region expects to bring in an estimated $65 million in film and TV-related revenue for 2020, thanks in part to features including the fifth film in the Scream franchise. They're drawn in part by
North Carolina's 25% rebate on qualifying expenses and purchases or rentals. Wilmington boasts more than 700 crew members, 10 sound stages, and diverse locations that can pass for just about anywhere in the U.S. — though suburbs that are more mysterious than they seem are a specialty.
8. Richmond
Virginia's capital has done a very good job of cultivating historical projects — from John Adams and Lincoln to the recent Harriet and The Good Lord Bird. It offers many government buildings and facilities for free. Most impressive is the Virginia-owned backlot, State Farm, a more than 3,000-acre property offered to clients without location fees that includes rolling hills, forest, farmland, vacant prison facilities, riverfront views, and functioning period sets spanning 300 years.
The Southern hospitality also includes a 20% tax credit for films, television, documentaries and commercials, which can climb to 40% based on other requirements, such as using local labor or first-time workers. The food is exquisite and unique, and the architecture, from colonial to ultra-modern, is sublime. Runners and cyclists will be delighted by the picturesque trails.
Richmond places great value on culture and diversity, which is reflected by film festivals ranging from the nearby Virginia Film Festival to the Pocahontas Reframed Film Festival to the Afrikana Film Festival to the 48-Hour Film Project. And hometown hero Vince Gilligan, who launched his career by winning the Virginia Screenwriting Competition, has continued to give back by serving as a judge.
The Virginia Film Office, meanwhile, is professional, extremely accommodating, and devoted to safety protocols.
7. Tulsa
The city in the center of the country found itself at the center of film conversation in 2020, thanks to Minari, which filmed in Tulsa in 2019 and won both the Grand Jury Prize and Audience Award in the U.S. Dramatic Competition at the 2020 Sundance Film Festival.
Tulsa has tripled its number of productions between 2017 and 2019. Among the new projects is FX's upcoming series Reservation Dogs, from Taika Waititi and Sterlin Harjo, a native Oklahoman who directed the pilot.
Recently, Tulsa independent theatre Circle Cinema was selected as one of the 20 satellite screens around the U.S. for the 2021 Sundance Film Festival.
"This melting pot of culture creates a strong sense of heritage which is felt through the cuisine, art and community spirit across Tulsa," says Abby Kurin, executive director of the Tulsa Office of Film, Music, Arts, and Culture. "Tulsa is also uniquely positioned to bring the East and the West together, meeting in the middle on the Mother Road."
And moviemakers can take inspiration from other art forms, as well: "Exploding early with lavish Art Deco architecture and an emphasis on the arts as a result of the oil boom, Tulsa is the smallest American city to offer the fine-arts triple threat of an opera, symphony orchestra and professional ballet," says Kurin.
6. Providence
Providence is a place of history and innovation, as represented by the Ivy League's 257-year-old Brown University and the bold Rhode Island School of Design, a school that counts Gus Van Sant, RaMell Ross, Natalia Almada and Ryan Trecartin among its alums.
It also wants more moviemakers, as demonstrated by the recent raising of its tax credit from 25% to 30%.
"We build from within by providing and sponsoring educational opportunities for our citizens hungry to learn about film and television production," says Steven Feinberg, who has run the Rhode Island Film and TV Office for 16 years. He says the region also incentivizes outside productions to come to Rhode Island, which in turn provides jobs and internships.
Adding to the film culture are festivals like the SENE Film, Music & Arts Festival (one of MovieMaker's 50 Film Fests Worth the Entry Fee in 2020), and the Academy Award-qualifying Flicker's Rhode Island International Film Festival.
As an added bonus, Boston is only an hour away.
5. Victoria, British Columbia
Vancouver thrives as a big- city alternative to Los Angeles and New York City, and Victoria thrives as a smaller alternative. It's only about 75 miles away from Vancouver, but getting there will require a combination of driving and a ferry — which takes about four hours from downtown Vancouver—or a flight, which takes about 35 minutes.
Victoria is worth the trip. The Vancouver Island Sound Film and Media Commission notes that the island, where Victoria is located, has locations that can double for everything from Central Park to English castles to the French Quarter to the Napa Valley.
Professor Xavier's School for Gifted Youngsters in Deadpool is really Hatley Castle, just outside Victoria, and Vancouver Island's Highway 19 was the scene of a harrowing chase in Sonic the Hedgehog.
We'd suggest referring to our entry about Vancouver for a taste of the significant tax benefits that await you in Victoria, but as we said there, you'll probably want to enlist a tax professional.
The commission will cheerfully direct you to qualified crew and production services, and your mood will be elevated by waking up each day to dreamy greenery and crashing waves.
4. Savannah
It's a testament to Savannah's diversity of locations that it was able to stand in for pretty much everywhere else in the United States in Julie Taymor's road movie The Glorias. The city has a can-do spirit that was especially apparent in 2020.
"Despite five months of industry-wide shutdown worldwide, we assisted 95 productions, and landed 41 projects," says Beth Nelson, executive director and film commissioner of the Savannah Regional Film Commission.
That kind of output is due in large part to the people in Savannah. Its crews are professional and at the top of their craft, thanks to top-notch schools like the Savannah College of Art and Design and Georgia Film Academy, and film organizations like Savannah Women in Film and Television. The SCAD Savannah Film Festival is a well-programmed delight that draws A-list talent from around the globe.
Also read: 15 Submission-Worthy Screenwriting Competitions of 2020
Few smaller cities can compete with its sense of sweep and history. Sure, you can dress up parts of it to pass for anywhere, anytime. But it also has very specific locales like 1950s-style diners, stately buildings largely unchanged since the Civil War, and inspiring coastline and evergreens waiting just outside of town.
Your crew will eat well, too, with award-winning restaurants and incredible food festivals like the Food and Wine Festival, Shalom Y'all Jewish Food Festival and the Gourmet Seafood & Spirits Festival.
Don't skimp on the biscuits or pralines.
3. Pittsburgh
Pittsburgh is on the move: It very deservedly moves into the top three from a quite respectable No. 4.
It could qualify as a big city, but always emphasizes a friendly, folksy small-town feel that keeps visiting moviemakers from feeling homesick. The 'Burgh is a magnificent movie town, home to top-tier productions from David Fincher's Mindhunter to Christopher Nolan's The Dark Knight Rises. Recent productions include Clea DuVall's new holiday classic Happiest Season, where Pittsburgh's winter wonderland feel was on full display, as well as I'm Your Woman.
The region drew $100 million in direct spending in 2020, thanks in part to a Pennsylvania tax credit of up to 25%. Carnegie Mellon is one of several outstanding schools for aspiring moviemakers, and film festivals are in bountiful supply. So is a spirit of fun: The city's Row House Cinema has kept things lively during lockdowns with a cat-focused film competition and a contest to make your own "Sweded" film — a no-budget, homemade remake of an existing film.
The homes, meanwhile, are affordable and often stunning, and you'll be surrounded by museums, culture and sports. Plus, as political commentators reminded us constantly in 2020, Western Pennsylvania is a complex, storied, unpredictable place—which should make it an endless source of inspiration.
2. Santa Fe
Look no further than our winter cover to see some of the unspoiled beauty of Santa Fe, a mere 60 miles from the top big city on our list, Albuquerque. The Harder They Fall, with an all-star cast that includes Regina King, is just the latest high-profile project to shoot in Santa Fe, where other recent productions include Paul Greengrass' News of the World, starring Tom Hanks, and Cop Shop, starring Gerard Butler. Albuquerque-based Better Call Saul makes the hour long drive to Santa Fe for the occasional scene. And residents include George R.R. Martin, who could live anywhere, but chooses to lay his crown in Santa Fe.
The town provides a small, intimate, away-from-it all feel. But thanks to its considerable resources and those in Albuquerque, moviemakers relocating here won't have to give up anything but a commute. It boasts excellent skiing, hundreds of art museums, and even an outdoor opera house. The tax credits are up to 35%, and you'll have no trouble finding equipment rental houses, production facilities and crew.
"Santa Fe is truly a filmmaker's paradise. We have doubled as Wyoming, Montana, Arizona, Texas, Colorado, Oklahoma, California, Mexico, Afghanistan, Pakistan, Iraq, Turkey, and Jerusalem," says Santa Fe Film Office director Jennifer LaBar-Tapia, who notes that the region has been a backdrop from stories ranging from apocalyptic dramas to holiday tales to romantic comedies.
Continue for MovieMaker's Top Small City to Live and Work as a MovieMaker, 2021