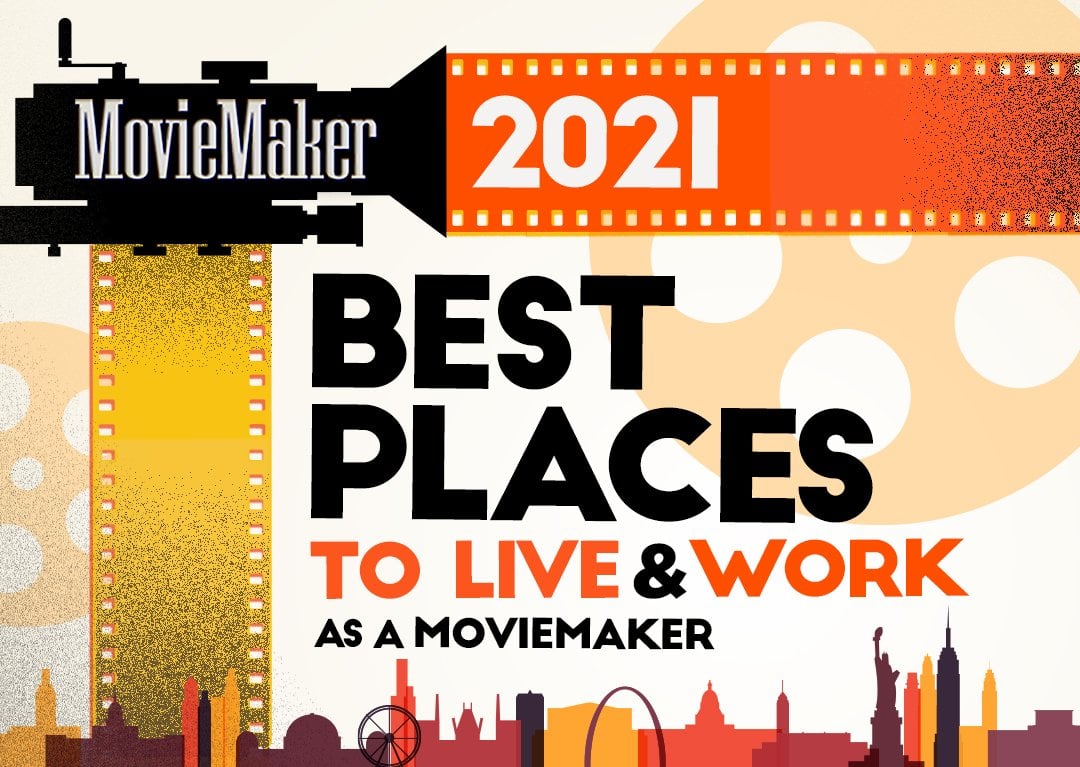 BIG CITIES
25. St. Petersburg
St. Petersburg pulled in 15 feature films in the last year, most with budgets under a million. Two bigger projects in the area were Lady of the Manor, starring Justin Long, Judy Greer, Melanie Lynskey and Ryan Phillippe, and Fear of Rain, which starred Harry Connick Jr. and Katherine Heigl and filmed downtown.
Since Florida lacks a film incentive program, the St. Pete Clearwater Film Commission smartly devised a cash rebate incentive in 2005. The program, which has helped more than 1,800 production companies, pays up to 10% on qualified expenditures in Pinellas County's 24 municipalities.
The region has some of the most gorgeous beaches in the country, and with 361 days of sunshine, you'll have ample opportunity to enjoy them. It also offers skilled crews and plenty of production facilities and equipment-rental houses. And its embrace of film includes the forward- thinking, worldly Sunscreen Film Festival, which celebrated its 15th year in 2020.
Another positive: The state's nonprofit industry agency, Film FL, requires all productions applying for a permit in the region to read and adhere as closely as possible to its recommendations for clean and healthy sets.
24. Milwaukee
"Milwaukee is way underrated as a place to work as a filmmaker," says Milwaukee Film CEO Jonathan Jackson. "We're known as a beer town, but the data proves that the film and media industry here is bigger than beer."
Need an example? In 2018, Milwaukee-born Oscar winner John Ridley opened Nō Studios, a 40,000 square feet studio space, in an old Pabst Blue Ribbon complex. He runs it with his investment banker sister, Lisa Caesar, the company's chief operations officer. Nō Studios bills itself as "a member driven physical space and digital platform geared toward artists and art lovers," and hosts screenings, art shows and live musical performances.
Other pluses include the Film, Video, Animation & New Genres school at UW-Milwaukee, and the Milwaukee Film Festival, which, Jackson notes, "showcases the work of dozens of local filmmakers, right alongside that of Oscar contenders." Milwaukee also has several grant programs, including Milwaukee Film's Brico Forward Fund, which annually awards cash grants of $100,000 for local filmmakers.
Indie moviemaker Ryann Liebl recently returned from L.A. to film her comedy Mags and Julie Go On A Road Trip, and if you can't find what you need from Milwaukee's respectable selection of rental houses, sound stages, and post facilities, Chicago is less than two hours away.
23. Seattle
The tech hub's spirit of innovation also extends to Seattle's vibrant film community. The Seattle Film Summit adapted to the pandemic by hosting a weekly webinar series "Filling the Void" in partnership with the Albuquerque Film & Music Experience. Meanwhile, the state's film commission, Washington Filmworks, also managed the Innovation Lab, a smaller funding program aimed at supporting Washington filmmakers and filmmakers using emerging technologies. And that's just the beginning. "Seattle assembled the Film Task Force, a diverse group of film industry and community stakeholders, to advise the city's support for the equitable and inclusive prioritization and growth of the region's film industry," says Taylor Durand-Scaggs, film permit specialist at the Seattle Film Office.
And Seattle supports its filmmakers: The city has more than 30 film festivals, including the Seattle Black Film Festival and The National Film Festival for Talented Youth. And the Northwest Film Forum and the Duplass Brothers recently launched the $25,000 Lynn Shelton "Of a Certain Age" Grant to honor the legacy of the hometown moviemaker. Each year, the grant will be awarded to a female or non-binary American moviemaker, age 39 or older, who has yet to direct a narrative feature.
22. San Antonio
The seventh-largest city in America is refreshingly direct about how much it wants your business. "San Antonio is real and ready. Real with authentic, unique and screen-worthy locations, a rich culture and history, and a welcoming film-friendly community that provides one-of-a- kind, budget-friendly experiences both on and off set," says Krystal Jones, who is the marketing, film and music administrator for the Department of Arts and Culture.
San Antonio offers locations ranging from urban to rural to historic to modern. If you're thinking of moving to the home of the Alamo, and taking advantage of the city's budget-friendly creative spaces like The Parish, the Brownstone Studios and Alamo City Studios, the San Antonio Film Commission is ready to help—and considers itself an "extension of the production team," Jones says.
The commission not only hands out grants to local moviemakers, but also directs them to other organizations that do, too, including the Luminaria Artist Foundation and the National Association of Latino Arts and Cultures.
In 2020, the Department of Arts and Culture used federal relief dollars and money from the San Antonio CARES 4 Arts COVID-19 Relief Fund to provide grants of up to $5,000 for independent artists in the San Antonio area. For production companies, relief grants of up to $75,000 were provided through the Department of Economic Development. The efforts paid off: Productions including HBO Max's Homeschool Musical: Class of 2020 filmed in San Antonio post-COVID-19 closures.
21. Kansas City, Missouri
The region's AMC Theatres celebrated its 100th anniversary in 2020, and yes, the chain has had better years. But its hitting the century mark is just another reminder of Kansas City's essential part in the history of the film industry. It was also here that Walt Disney opened his first studio, Laugh-O-Gram Films, in 1921—before realizing his own last name was pretty good, too.
But let's talk about Kansas City's film future. The KC Film Office works hard to ignite global passion for Kansas City, and requires no permits. So you'll have ample access to locations that could stand in for New York City, Chicago, or even Eastern Europe. There are many equipment rental houses and production facilities, including Lights On and Wide Awake Films.
There are about 500 locations in the KC Locations Database, and because the city is very compact, moviemakers can get from one location to another quickly.
But the biggest draw may be the people: The city boasts more than 700 working crew. "One of my favorite stories about our film industry this year was during a fundraiser my office did to help out crew with $50 grocery gift cards," says Kansas City film commissioner Steph Shannon. "So many crew gave their cards away to other crew people they thought might need it more. It was so selfless and generous. My respect and admiration for our industry people grew to new heights during a time of great challenge."
20. Washington D.C.
Patty Jenkins' Wonder Woman 1984 shot the nation's capital so beautifully that it could have been an ad campaign for future D.C.-set projects, highlighting everything from floodlit monuments to charming walkways to the Smithsonian. While lots of films emphasize the stately and imposing nature of the city, WW84 noted its culture, cosmopolitanism and romance.
Living and working in the District also means drinking in a long cinematic history that includes The Exorcist, All the President's Men, Forrest Gump, and more. Can you afford it? Yes: Washington offers generous incentive rebates of up to 35%—and 50% for qualified job-training expenditures. It is the home of many prestigious festivals, most notably AFI Docs, and there are a respectable number of equipment rental houses and production facilities.
DC Reel-Crew will refer you to very capable crewmembers, and DC Reel-Vendor can point you toward great deals on support services and equipment. And the Creative Economy Career Access Program can help you find jobs, or employees. There are all kinds of DC superheroes.
Finally, the District's film-permitting guidance for preventing the spread of COVID-19 is so thorough that you'll wish everyone in the federal government would take notes.
19. Portland
Portland is famous for all things handcrafted and artisanal, and that extends to filmmaking. The city is home to two stop-motion-animated films due in 2021: Guillermo del Toro's bold new take on Pinocchio and the Key & Peele reunion Wendell and Wild, from Coraline director Henry Selick.
In an increasingly digitized world, Portland has mounted a brave campaign to celebrate the analog, from its beloved Powell's Books (the world's largest independent bookstore), to film meccas like the Hollywood Theatre, to its live music scene (which we hope can return in 2021). When it comes to its film culture, the numbers speak for themselves: It is home to a dozen theaters and film societies, 15 film festivals, 14 film equipment rental houses, 16 film organizations and unions, and 19 production facilities. Oregon Film has tracked $135 million in direct spending within incentivized productions for fiscal year 2019-2020 in the Portland area, thanks in part to a 20% cash rebate on goods and services from Oregon vendors.
Portlanders may know how to build their own clocks, but they're also closely engaged with the times. The city responded boldly and innovatively to the pandemic, even in the midst of 2020's fires and demonstrations. "Ultimately the pivots forced upon the local industry from the coronavirus pandemic will make it stronger," says Brian Lord, manager of the Portland Film Office. "As a city within a long drive from Los Angeles and Vancouver, we are well situated for projects that do not want to use air travel. Our Oregon Media Production Association immediately created updated health and safety protocols for a safe return to work and we have been able to remain healthy as production started back up in August."
18. Baltimore
Even if it were only home to The Wire, VEEP and House of Cards, Baltimore's place in TV history would be secure. But Baltimore also delivers new, vibrant film projects year after year, including last year's Sundance darling Charm City Kings and the upcoming Sundance film Strawberry Mansion, which shot on the USS Constellation in the city's beloved Inner Harbor.
Baltimore's history, diversity, reasonable costs and easy access to New York City, Philadelphia and Washington, D.C. — plus tax credits of up to 25% for film and 27% for TV projects — have made it an obvious choice for moviemaking that doesn't feel too obvious.
Baltimore has a flavor and specificity you won't get in every city of its size, and you sense the stories and possibility between every brightly painted row house door. You'll eat well, from seafood to the diners like the one in, well, Diner — Barry Levinson's 1982 breakthrough. And the Maryland Film Festival includes hometown treasure John Waters, master of the whimsical and weird.
A hidden gem of the city is Beyond Video, a nonprofit video store co-run by programmer-critic Eric Allen Hatch. Beyond Video notes on its website that "the existence of the physical video store and the culture surrounding it" is "pivotal to the exchange of ideas and the fueling of creativity within the Baltimore community."
Baltimore also has a pragmatic side: You can go from very urban to very rural with a very short drive, and from ornate buildings to breathtakingly gorgeous homes to the site of the social experiment known as Hamsterdam. The Wire fans will know what we're talking about.
Continue for more Best Places to Live and Work as a Moviemaker, 2021