MovieMaker Tip of the Week: Make three shots lists!
When I'm directing a movie, I'm a big believer in preparation. I believe most the work on a film is done before you ever set foot on set. Being over-prepared actually allows more freedom for improv and fun on a set. And before I direct any scene I always have three shot lists.
The first shot list is my HOPEFUL LIST. This will usually have all the coverage and showy shots I would get if I actually had the time to get them. This seldom happens. But, every once in a while, a day moves more quickly than usual, and I'm able to get all my basic shots in and have a little time left over. That's when I get into these HOPEFUL shots, that can spice up a scene.
Then I have my GOOD BUT REALISTIC LIST. After years of shooting, this is what I expect to get, and will give the scene what it needs to be great. Finally, I have my DEAR GOD I'M GETTING FUCKED LIST. This list is used on a day when you fall way behind and you're able to get nothing but the absolutely necessary shots. This is a list of shots that will make the scene happen, although you may be losing the oomph you hoped for.
WHOO!! WHOO!! WHOO!!


All photos by John Sampson. From L to R: Tanedra, Angela, Michelle, Jessica, Lindsay.
What a fucking episode! I just watched it for the second time, and it blew me away once more.
First, and most powerful, was Homa's acting challenge. That whole week I gave Homa shit about that exercise, and he was embarrassed to do it. What kind of fucking acting exercise is it where one actress has to mock another to her face? It was an exercise obviously created by our esteemed producers and VH1 for blatant dramatic purposes and yet… it worked!
Well, it worked at least with Lindsay and Angela, two people who cared about and trusted each other. I was incredibly moved by their interaction, and even got teary-eyed watching it.
And thank God we're not hiring a HAVING-A-CLUE QUEEN, otherwise Michelle would have gotten booted for her "strong black woman from the projects" stuff. Holy cow! That said, my favorite thing used to be a great piece of toro sushi from Kazu on Ventura—now it's Tanedra's imitation of Michelle saying "Whoo whoo whoo!" while swirling her breasts. I was also very fond of Jessica's line, "I sometimes need to shut my own mouth!" Oh, yes. So true.
The whole thing was more therapy than it was an acting exercise, but I liked how Homa got the most out of it.
Speaking of Homa, check this out: I was talking yesterday to my good friend/ex-wife/"Scream Queens" fan/Pam from "The Office," Jenna Fischer. Jenna has long attributed a great portion of her success to her acting coach, Robert D'avanzo. Robert teaches acting classes on how to audition, and how to act for the camera—truly helpful, practical stuff. Jenna says she couldn't have landed her role on "The Office" without Robert's training. Well, Jenna told me she was talking to Robert a few days before who told her that one of his mentors was… HOMA! And Robert also said that Homa developed a lot of the techniques that Robert taught Jenna. So, in a way, Homa helped Jenna to get her role on "The Office."
It's a small, strange world. Especially in Hollywood. Whoo! Whoo!! Whoo!
Anyway, onto… THE BLOODSUCKING FREAK CHALLENGE. And by "bloodsucking freak" I, of course, mean Michael Rooker.
Now Rooker is one of my best pals in the whole world. I love him. He's an amazing talent. But on set he is also a gigantic boil on my ass. For those of you who don't believe me, I present this video which the SCREAM QUEEN producers cut for this very blog:
And here's Rooker at a party a couple weeks ago talking with me about his experience on the show:

Rooker and James talk Scream Queens from jake zim on Vimeo.
See what I mean? Asshole. It was pretty mean for the producers to dump 15,000 cockroaches on the girls the week before. But to dump a Rooker on them? It's absolute sadism! However, I thought this was a great exercise. The Scream Queens had already acted with one professional actor—my brother Sean—but acting with Rooker was a bit more of a challenge. Firstly, the girls had to pull off playing the higher-status character in the scene. Rooker is older, has been in almost 100 films, and, despite his jovial nature, can be a pretty intimidating guy. I thought this would be a great test for whoever won the role in SAW 6 and would have to keep their composure on a set every day with many professional actors and hundreds of crew people.
As you can see in the episode, two of the girls wilted and three rose to the challenge. To get into the real shit, visit http://blog.myspace.com/index.cfm?fuseaction=blog.view&friendID=58119776&blogID=451706577.
Only one more episode before the stunning conclusion of SCREAM QUEENS. Be sure to watch Episode Seven next Monday night on VH1! And come back here Tuesday morning for the second-to-last BEHIND-THE-SCREAMS blog!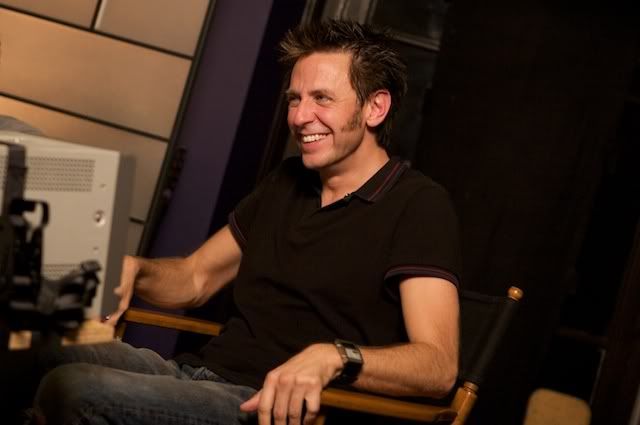 MY BLOODY VALENTINE
BLOODY VALENTINE is a horror movie festival in Los Angeles over Valentine's Day weekend—the most horrifying holiday of the year! They're going to be showing SLiTHER with a cast and crew panel, COUNT YORGA, BRIDE OF REANIMATOR and MORE. But I'm probably most excited about the TROMEO & JULIET 35mm screening and the cast and crew reunion! This is the movie where I met many of my best friends, and it's going to be great watching T&J with them on the big screen for the first time in over ten years!
Find out more information and BUY TICKETS on http://www.bloodyharvest.com/tickets.
See you later, fuckers!
James
SUBSCRIBE TO THIS BLOG at:
http://blog.myspace.com/index.cfm?fuseaction=blog.confirmsubscribe&friendID=58119776&Mytoken=A461BA68-682B-4917-A0196C6F29DC6C14234420275

You can still watch JAMES GUNN'S PG PORN: NAILING YOUR WIFE at:
http://www.spike.com/video/pg-porn-pg-porn/3041858
For extra "Scream Queens" info, go befriend me now at Famous VH1 Friends:
http://www.famousvh1friends.com/personality/92162/james-gunn
I'll answer any and all questions you have in the Q&A section in the James Gunn Appreciation Society:
http://www.jgas.org/
Know when I'm drinking a cup of coffee, taking a shit or when Rooker is trying to rape me on TWITTER:
http://twitter.com/james_gunn