Johnny Manziel pictured in Untold: Johnny Football
If you've seen the new episode of Netflix's Untold sports anthology series called Untold: Johnny Football about former football star Johnny Manziel, you might be wondering what he's doing now — and if he still has any ties to the sport in which he once had a promising future.
In 2012, Manziel lead his team at Texas A&M to a record-breaking 11-2 winning season. In December of that year, the young quarterback made football history when he won the prestigious Heisman Trophy — the collegiate football world's highest honor — making him the first freshman ever to do so.
In 2014, he joined the Cleveland Browns as a first-round draft pick. But just two seasons later, he was fired from the team following a streak of hard partying and drug use.
What Happened to 'Johnny Football'?
In Untold: Johnny Football, he explains what was really going on behind the scenes during his short but infamous career — and how he nearly took his own life when it all came crashing down.
Most of all, Manziel just wants to leave his "Johnny Football" reputation behind him.
"I still get a lot of questions regarding football and regarding a past career, and I want to put the whole Johnny Football thing to rest," he told Insider. "Even though it'll never quite fully go away, at least for the majority of people in my interactions in daily life, I want to be able to put this story out there and just let it be what it is."
Manziel became a celebrity after winning the Heisman in 2012, and he tells Insider that after that point, his goals stopped being about football. "All I wanted to do was get famous," he said.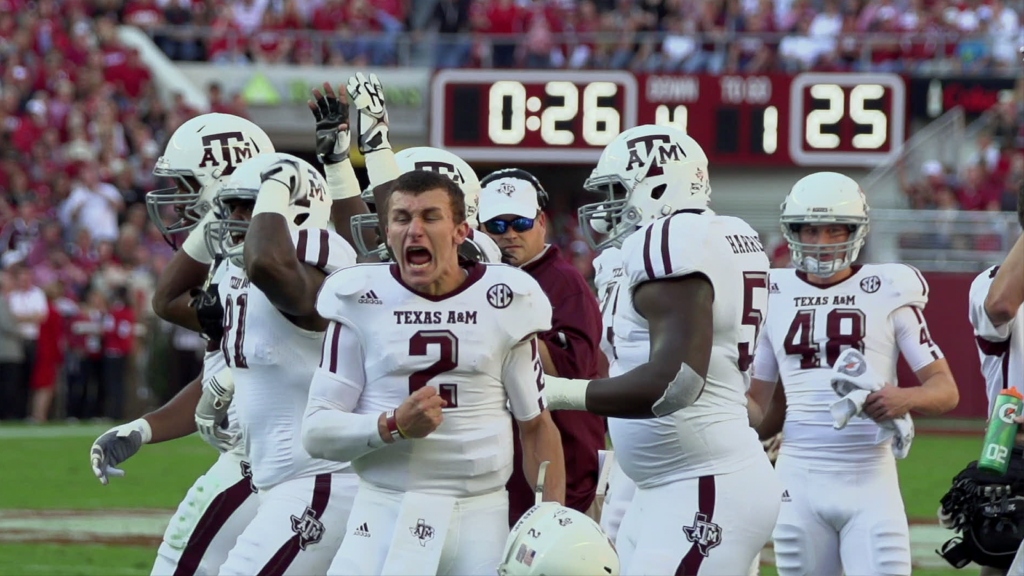 As the documentary explains, he began partying with other celebrities, flying to Miami for bender weekends, and making hundreds of thousands of dollars against NCAA rules by selling autographs.
Despite drinking heavily and using drugs, Manziel's final season at A&M was a success. But by the time the NFL draft rolled around, his partying had gotten out of control — and his reputation was starting to proceed him. He expected to get chosen as the first or second draft pick but ended up going to the Browns as the 22nd draft pick. Still impressive, but not as high up as he was expected to be chosen.
Also Read: Did Jake Paul Save Boxing, or Did Boxing Save Jake Paul? Untold Director Tells Us What Surprised Him Most
When he joined the Browns, what little love he had left for the sport was gone.
Manziel's "sense of joy" went away "when I was at the top," he told Insider.
"When I got to Cleveland, I wasn't in this head space to be able to just go play football," he added. "I was struggling to get out of bed in the morning. I was struggling to fight thoughts and feelings that I had never really had before in my life."
After a particularly public bender in Las Vegas that made Manziel miss a day of practice with the Browns, he was fired from the team. He was diagnosed with Bipolar Disorder, but chose to self-medicate with illegal substances. His drug use — which he said in the documentary involved cocaine and OxyContin — got even worse.
He also explained that his plan at the time was to commit suicide after partying himself out.
"I wanted it to get as bad as humanly possible to where it made sense, and it made it seem like an excuse and an out for me," he said in the doc. "The plan was to take my life."
But the gun he had bought for that specific purpose inexplicably misfired.
"Still, to this day, I don't know what happened," he said in the doc.
Where Is Johnny Manziel Now?
After his failed suicide attempt, Manziel went home to Kerrville, Texas to stay with his parents.
As of 2022, he's a quarterback for the FCF Zappers, an indoor football league founded in 2020 as part of the Fan Controlled Football league that has fans vote on play calls and other aspects of the games.
He's seeking a simpler life away from the NFL.
"I know that I'm still gonna walk down the street or go to a restaurant or go to a football game and people are still gonna recognize me," he told Insider. "But at the end of the day, I wanna live a more normal, simplistic lifestyle now. I'm finding things that truly do make me happy without having to be in a spotlight every day."
Untold: Johnny Football is now streaming on Netflix. New episodes of Untold drop weekly.
Main Image: Johnny Manziel pictured in Untold: Johnny Football courtesy of Netflix.
Share: