Painkiller. Uzo Aduba as Edie in episode 101 of Painkiller. Cr. Keri Anderson/Netflix © 2023
After watching Netflix's Painkiller — the new drama series based on the true story of the drug OxyContin, Purdue Pharmaceuticals, and the Sackler family that owns it — you might have googled Edie Flowers to find out more about the character played by Uzo Aduba.
And if you were surprised not to find any results for her on the U.S. Attorney's Office in Roanoke, Virginia, the reason is that she doesn't exist.
The Truth About Edie Flowers
Yeah, that's right — she was made up for the purposes of the series based on an amalgamation of whistle-blowers who helped bring down Purdue Pharma and quell its sales of the opiate OxyContin, which has been attributed with starting America's opioid crisis.
We spoke with Painkiller executive producer Eric Newman and consulting producer Barry Meier, who wrote the book Pain Killer: An Empire of Deceit and the Origin of America's Opioid Epidemic that the show is based on.
Also Read: In Anonymous Sister, Jamie Boyle Uses Family Videos to Tell a True Story of the Opioid Crisis
"She's a composite character of a number of investigators, journalists, and some government investigators who, collectively — Barry [Meier] included, blew the whistle on this," Newman told MovieMaker.
"She was an essential part of telling the story because she's a surrogate for the audience. She is the uninitiated, slightly naive person who is presented with things that are almost impossible to believe. And her sort of incredulity then comes in, becomes a horrifying realization, and then a quest for justice."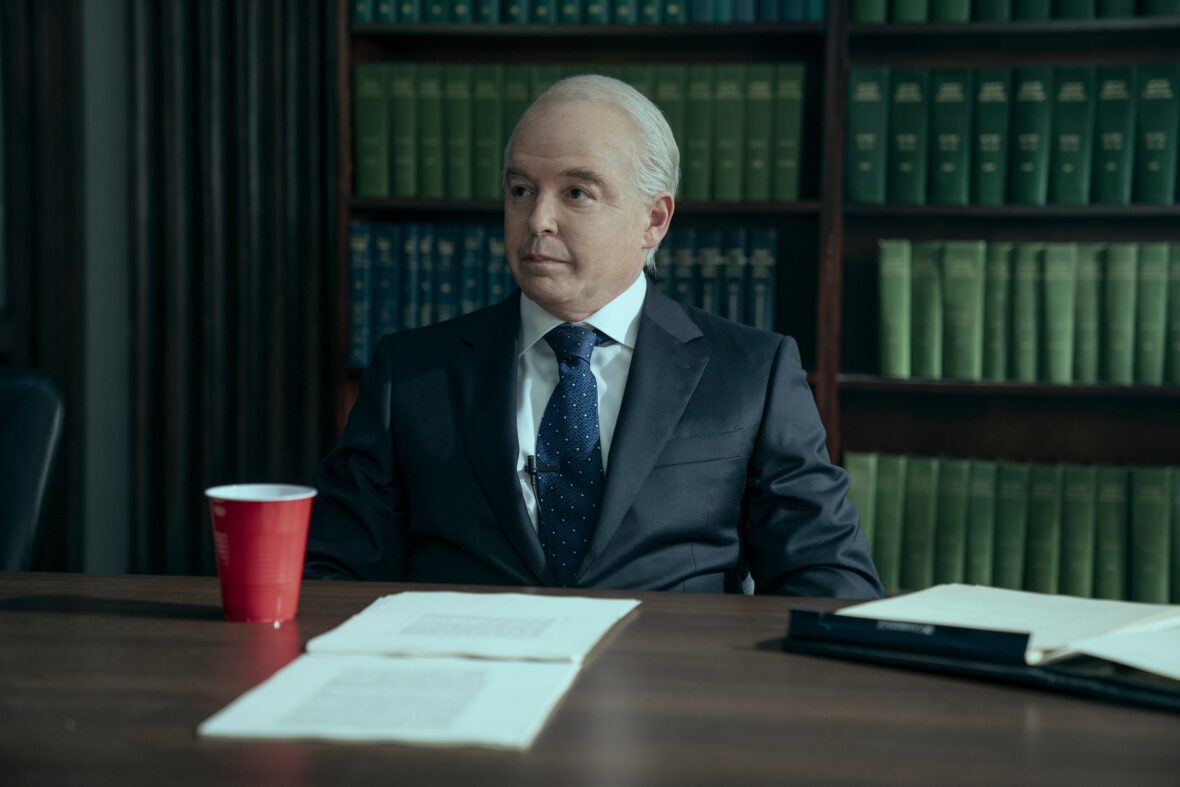 Edie Flowers' Role in Painkiller
Edie Flowers serves at once as the show's narrator through her interview with lawyers who have just deposed Purdue CEO Richard Sackler. She initiates the flashbacks through which the story is told as she walks the lawyers through her memories of witnessing the rise of OxyContin first-hand.
Her character dedicates herself to finding where Purdue is breaking the law in order to stop them from selling OxyContin, a powerful drug on which many people overdosed and died during its reign as the top prescribed painkiller in the U.S.
"It is estimated that over 300,000 people have died over the past two decades from overdoses involving prescription painkillers like OxyContin," reads a text card at the end of the series. "Over 40 people die in the U.S. from prescription opioid overdoses every single day."
Edie Flowers also serves as a perfect foil for Richard Sackler himself, who is played by Matthew Broderick.
"She's very much the rooting interest of the show to a certain extent," Newman adds, calling Aduba "a phenomenal actress."
The show — which is very upfront about being a dramatization with changed names and details to avoid defamation lawsuits from those depicted — paints Broderick's Sackler as a money and power-hungry entrepreneur whose life goal is to get as many Americans hooked on OxyContin as possible while pushing the false narrative that the heroin pill is not an addictive substance.
Sackler himself has said that he does not believe either his family or Purdue bears any responsibility for the opioid crisis.
In 2019, Purdue Pharma filed for bankruptcy, but as of 2023, it's still pending, according to the series, which adds: "No member of the Sackler family has been criminally charged in connection with the marketing of OxyContin or any overdose deaths involving the drug."
Painkiller is now streaming on Netflix.
Main Image: Painkiller. Uzo Aduba as Edie in episode 101 of Painkiller. Cr. Keri Anderson/Netflix © 2023
Share: