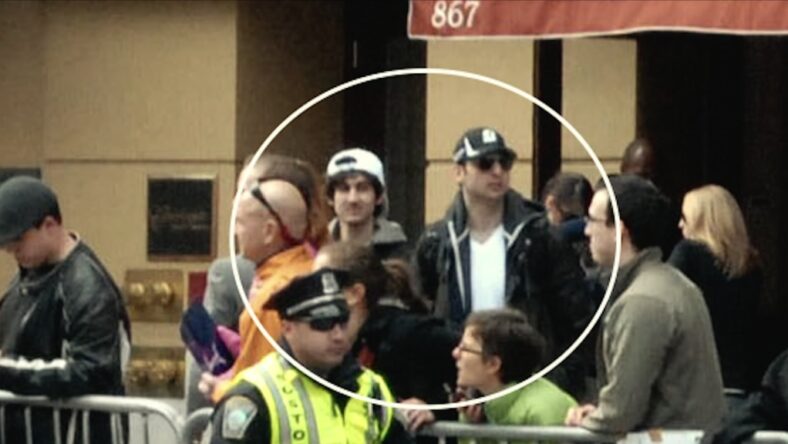 (L to R) Dzhokhar Tsarnaev and Tamerlan Tsarnaev courtesy of Netflix
Netflix's new true-crime docuseries American Manhunt: The Boston Marathon Bombing covers the tragic story behind the 2013 bombing at the Boston Marathon carried out by two brothers named Dzhokhar Tsarnaev and Tamerlan Tsarnaev. Though Tamerlan was killed during a confrontation with police a few days after the bombing, his younger brother, Dzhokhar, is still alive.
Where is Dzhokhar Tsarnaev now?
Dzhokhar Tsarnaev was taken into police custody on April 19, 2013 after four days on the run following the bombing he carried out with his brother on April 15. He was found hiding out in a boat at 67 Franklin Street in Watertown, Massachusetts, just one block away from where he and his brother engaged in their final shoot-out with police.
Three people — 23-year-old Lingzi Lu, 29-year-old Krystle Campbell, and 8-year-old Martin Richard — were killed in the bombing. 17 people lost limbs and many more were injured.
Tsarnaev was found guilty of all 30 counts — including possession and use of a firearm in relation to a crime of violence; carjacking; use of a weapon of mass destruction resulting in death, and bombing a place of public use resulting in death — at his trial in 2015.
He was given the death penalty, which he appealed. In 2020, the 1st U.S. Circuit Court of Appeals in Boston ruled that evidence was improperly held back in Tsarnaev's original trial, but in March 2022, the U.S. Supreme Court upheld the original death sentence and he was placed back on death row, where he remains to this day.
His execution date has not yet been scheduled.
Also Read: Boston Marathon Bombing Doc Director Couldn't Interview Dzhokhar Tsarnaev. Here's The Tough Question He Would Have Asked
"The prospect that Tsarnaev, now 28, will be executed anytime soon is remote," according to a March 2022 story from Boston public radio station WBUR. "The Justice Department halted federal executions last summer after the Trump administration carried out 13 executions in its final six months."
According to the docuseries, Dzhokhar is currently in a super-maxiumum security prison, which is a unit within a larger prison that has the highest level of security. According to the Federal Bureau of Prisons website, he is currently an inmate at USP Florence ADMAX, a Florence, Colorado supermax prison referred to as "The Alcatraz of the Rockies." He will ultimately be moved to a prison in Terre Haute, Indiana, where federal death row inmates are executed, according to Boston.com.
Before Tsarnaev was sentenced to death in 2015, he apologized for the bombing.
"I would like to now apologize to the victims, to the survivors," Tsarnaev said before receiving his sentence. "I am sorry for the lives that I've taken, the suffering that I've caused and the damage that I've done, irreparable damage."
It could be years before he is executed.
American Manhunt: The Boston Marathon Bombing is now streaming on Netflix.
Main Image: (L to R) Dzhokhar Tsarnaev and Tamerlan Tsarnaev. Courtesy of Netflix.
Share: