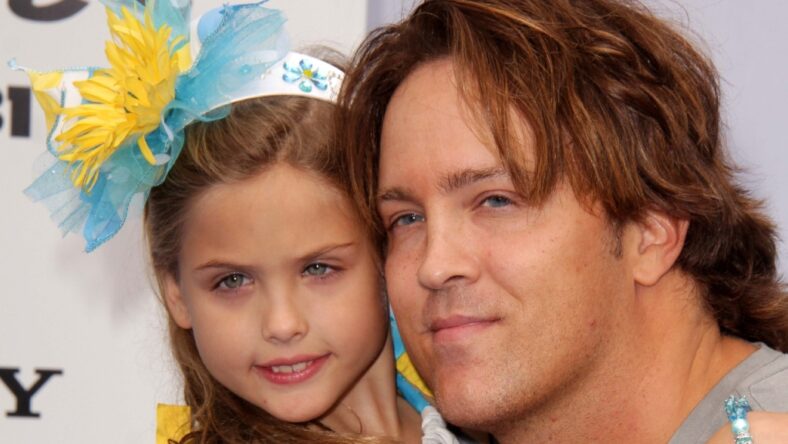 Dannielynn Birkhead and Larry Birkhead at the The Smurfs 2 Los Angeles Premiere, Village Theater, Westwood, CA on July 28, 2013. Courtesy of Shutterstock.
If you've seen Netflix's new documentary Anna Nicole Smith: You Don't Know Me, then you may be wondering what happened to her daughter, Dannielynn Birkhead, after the Playboy model died in 2007.
Today, Dannielynn Birkhead is 16 years old. She has been in the sole custody of her father, Larry Birkhead, since 2007. She was born on September 7, 2006.
After Anna Nicole Smith's death on February 8, 2007 from an accidental drug overdose, a paternity battle broke out between Smith's live-in boyfriend and lawyer, Howard K. Stern (not to be confused with the radio host) and her ex-boyfriend, photographer Larry Birkhead, whom she dated off and on from 2005-2006.
Other men also claimed to be Smith's potential baby daddies, including Zsa Zsa Gabor's husband Frédéric Prinz von Anhalt and Smith's bodyguard Alexander Denk, but Birkhead was confirmed by a paternity test to be Dannielynn's biological father in April 2007.
At that point, Stern agreed to hand over full custody of Dannielynn to Birkhead.
"My feelings for Dannielynn have not changed," Stern, who had been caring for Dannielynn for seven months, said after learning he was not her father, according to CNN. "I am not going to fight Larry Birkhead on custody. We're going to do what we can to make sure that the best interests of Dannielynn are carried out. And I'm going to do whatever I can to make sure he gets sole custody."
Smith's mother, Virgie Arthur, had also been involved in the custody battle, but custody ultimately ended up being awarded to Birkhead. He has raised Dannielynn ever since.
Though Dannielynn Birkhead had the potential to inherit several million dollars from the estate of Annie Nicole Smith's second husband, J. Howard Marshall, a billionaire in the oil industry. Despite decades of legal battles that went all the way to the Supreme Court and continued long after Smith's death, Dannielynn Birkhead did not ultimately end up seeing any of that money, according to a statement at the end of Anna Nicole Smith: You Don't Know Me.
Also Read: Was Cleopatra Black? Here's What We Do and Don't Know About Her Heritage
Here's What Dannielynn Birkhead Is Doing Now
Now a teenager, Dannielynn bears a striking resemblance to her late mother. And her father has spoken about the similarities he sees between Dannielynn and Anna Nicole.
He recently told People that Dannielynn is "generous like her mom" — and shares another similarity as well.
"And at the same time, she's a picky eater like her mom. Oh, my gosh!" he laughed. "She eats no meat at all. One time in her life, she's eaten meat. She does not eat meat at all, but she's not a gigantic vegetable fan, either."
"She gets a lot of sauce on her pizza. Her mom was a sauce, a condiment freak. She would just extra, extra, extra, extra everything and load it down. And that's how Dannielynn is," he added.
In May, Dannielynn and Larry Birkhead attended the Kentucky Derby together — the very event where Birkhead and Smith first met in 2003.
As a high school junior, Dannielynn is getting ready to look at colleges. She wants to study forensics, Birkhead said.
"She takes a forensic class in high school, and she enjoys it, so she's starting to talk about that, which is great because I like to watch Dateline," Birkhead said. "So we're on the same page with that."
On their shared Instagram account, Larry Birkhead posted a photo of Dannielynn Birkhead getting a guitar lesson from Richie Sambora, who played guitar in Jon Bon Jovi's band for many years.
"Richie graciously made good on his offer to give Dannielynn a private guitar lesson and spent a ton of time giving her confidence building tips and mastering the art of playing the guitar. Great guy!" Birkhead wrote. "Dannielynn played a little [of Janet Jackson's] 'Black Cat' for him."
Main Image: Dannielynn Birkhead and Larry Birkhead at The Smurfs 2 Los Angeles Premiere, Village Theater, Westwood, CA on July 28, 2013. Courtesy of Shutterstock.
Share: